Sale Rack Clearance
Take an additional 50% OFF all Sale Rack items!
Still plenty of bargains to choose from!
Shop now until the end of the year!
All sale are final - no returns
Shop Now
Welcome to Dressing For His Glory
We are an unique web-store that carries a full line of modest clothing for women and girls of all shapes and sizes!
In our clothing line we offer many length options as well as many fabric colors to choose from.
If you have any question please call 856-336-8945, we are here to help!
Please Order Ahead
We need 2 weeks to complete your order.
Please keep this in mind when placing your order.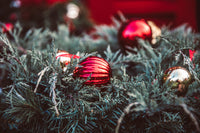 Christmas Shipping Schedule
Ordering Ahead for Christmas
Shopping for the perfect Christmas gift? Please remember to order ahead!
The last day to order for Christmas delivery is
December 6th.
We sure don't want to disappointed anyone, so please keep this in mind when ordering!
Questions?
Please call 856-336-8945 to get answers to any question you might have!
Monday thru Friday 9 am to 5 pm EST
We would love to help!
Testimonials
Are you looking for a modest swim suit? This is an excellent place. We've been buying from her for the past several years and have been pleased with the quality and customer service.

Melanie Hock
I'm thankful for Dressing For His Glory, for the modest skirts of great quality and their wonderful customer service.

Jan Posch
Thank you so much for filling this unique niche in the clothing industry. I love the skorts. I pretty much live in them Spring, Summer and Fall. The pockets are the best! The quality outstanding! I can't tell you how much I appreciate the clothes.

Teresa F.