Welcome to Dressing For His Glory
We are an unique web-store that carries a full line of modest clothing for women and girls of all shapes and sizes!
In our clothing line we offer many length options as well as many fabric colors to choose from.
If you have any question please call 856-336-8945, we are here to help!
School Uniform Skirts
Be Ready for the First Day of School!
Our Modest School Uniform Skirts are durable and comfortable for women and girls of all shapes and sizes. We have the size and length you need! Available in Khaki, Navy and Black.
Need help in choosing there right size?
Call us at 856-336-8945, we are here to help!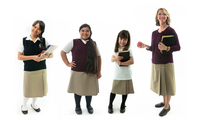 Questions?
Please call 856-336-8945 to get answers to any question you might have!
Monday thru Friday 9 am to 5 pm EST
We would love to help!
Please Order Ahead
We need 2 weeks to complete your order.
Please keep this in mind when placing your order.
Popular Swimwear Styles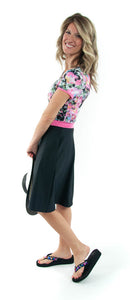 Swim Dress
Our Ladies Swim Dress is made for ladies who love to swim. It is a great no fuss dress that lets you be active, beautiful and comfortable all Summer long!
Shop Now
Swim Tee with Swim Flare Skort
Our Swim Flare Skort in Bight Pink is worn together with our Paris Swim Tee. The Flare Skort is made for durability even in highly chlorinated pools.
Shop Now
Swim Tee with Freestyle Swim Skirt
The Swim Tee in our New Paris Print worn with Gray Freestyle skirt is a great combo! The freestyle skirt is comfortable wears well and looks terrific!
Shop Now
Take Additional 30% on all Sale Rack Items!
Check out DFHG's Sale Rack today!
Over a 100 reduced items to choose from
Hurry while the supply lasts
For a limited time
All sale are final - no returns
Shop Now
Testimonials
Are you looking for a modest swim suit? This is an excellent place. We've been buying from her for the past several years and have been pleased with the quality and customer service.

Melanie Hock
I'm thankful for Dressing For His Glory, for the modest skirts of great quality and their wonderful customer service.

Jan Posch
Thank you so much for filling this unique niche in the clothing industry. I love the skorts. I pretty much live in them Spring, Summer and Fall. The pockets are the best! The quality outstanding! I can't tell you how much I appreciate the clothes.

Teresa F.